---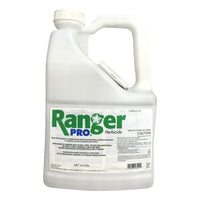 Ranger Pro Herbicide, 2.5 Gallons, Glyphosate
Ranger Pro Herbicide 2.5 Gallon Details:
Ranger Pro with 41% Glyphosate is a complete broad-spectrum non-selective post-emergent professional systemic herbicide.
Highly concentrated, 41% glyphosate Ranger Pro Herbicide is a high quality fast acting systemic total vegetation killer.
It is formulated as a water-soluble liquid with a surfactant, therefore no additional surfactant is needed.
This will kill most weeds and grasses on contact.
Starts working fast, often within 1-2 hours, and kills weeds and grasses on contact, roots and all.
Ranger Pro is then absorbed into the soil and breaks down naturally, and therefore will not spread through the soil and damage to other root sysems are nominal
Use 1.5 - 4 fl. oz. per 1 gallon of water for the most applications.
Please note:  This product will kill any vegetation, grasses, or weeds upon contact.
Free Priority Mail Shipping
Always read and follow label directions when using any pesticide.
Please do not purchase if your State does not register this product as a general use pesticide.