---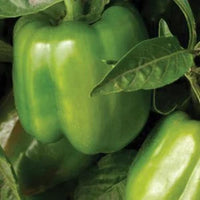 30 Seed Packet
Versatile, classic sweet bell pepper
Standard bell pepper found in supermarkets
Very versatile in the kitchen
Prefers full sun exposure
Maturity 75 days. This old time favorite produces large bell type peppers that have a sweet flavor with thick tasty crisp flesh. Perfect for stuffing, cooking or salads. 
Disease resistant to Tobacco Mosaic Virus.
California Wonder is the classic sweet bell pepper. 
Familiar to all vegetable gardeners for ages, this classic heirloom pepper has set the standard since the late 1920s. 
California Wonder Pepper vegetable seeds are easy to grow; just sow them in a sunny spot with well drained soil and enjoy a bountiful harvest.