---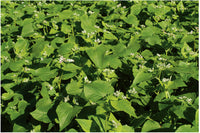 Includes 1 lb. Buckwheat Seed, Origin South Dakota, Great Cover Crop or Food Plot for Wildlife
Seeding Rate: 40-50 Lbs per acre; 3 Lbs. per 1000 sq. ft.
Seed Depth: 1/2 - 1 inch
Planting Time: Spring-Summer
pH: 5.5-6.5
Life Span: 65-80 days
Summer annual which can be used as a green manure crop. An early maturing wheat suitable for almost any type soil.
Seeds remain on stalk after ripening, providing food over extended period of time. 
Buckwheat has a short growing season, maturing in 10 to 12 weeks. It is quickly killed by frost. 
Broadcast buckwheat evenly onto a well-prepared bed. 
Incorporate seeds about 1-2 inches deep and water in thoroughly. 
Buckwheat flowers attract many beneficial insects, but take care that your crop not drop seed; buckwheat can be a nuisance. 
Late summer planting will winter-kill, but late spring and summer planting should be incorporated when the plants flower.