---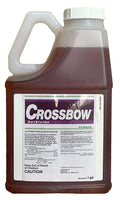 2,4 Dichloeophenoxtacetic acid triclopyr BEE : 3,5,6-trichloro-2-phridinyloxyacetic acid
Rangeland, Grass Pastures, Fence rows, roadsides and non-crop areas
Crossbow specialty herbicide is recommended for control of most species of unwanted woody plants, as well as annual and perennial broadleaf weeds, growing on rangeland, permanent grass pastures, CRP, fence rows, non-irrigation ditchbanks, roadsides, other non-crop areas, and industrial sites.
Application Rates 2-4 Quarts Per Acre.
For Spot Spraying 2-3 Ounces Per Gallon
Very Effective Post Emergent Herbicide
See Label for Rates and Controlled Weeds
Your State May Have Restrictions on Purchase or Use, Consult Your State Regulations Before Purchase.