---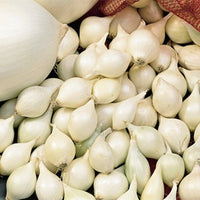 White Onion Sets or Bulbs, 60-80 sets, 12 ounce pack
Graded Size 7/8" 
Onion sets are small "baby" onions (bulbs) that are used to grow green onions or dry onions. 
They are planted in fall or early spring and in 4 to 5 weeks you will have green onions. If left to fully mature, you will have dry onions in late July or early August.
Height: 12 - 18 inches.
Spacing: 2 - 4 inches apart.
Depth: Plant sets 1 - 2 inches deep and 2 - 4 inches apart.
Spread: 3 - 4 inches.
Sun/Shade: Full Sun.
Foliage: Long linear green leaves.
Fruit: 3 inch when mature
Soil Requirements: Well-drained, fertile soil.
Growth Rate: Medium to fast growth rate.
Comments:  White onions are best for slicing. White onions are big, firm bulbs with a mild flavor.