---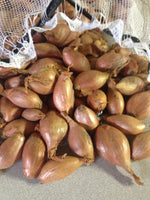 large sets, 12 ounces
Shallots are multiplier onions. 
This means that the bulb divides into a number of cloves or small bulblets which remain attached to the base. Shallots have a milder flavor than other onions. Shallots add a mild flavor to soups, salads and other foods.
Height: 18 - 24 inches.
Spacing: 6 - 8 inches apart in rows 8 inches apart.
Depth: Plant bulbs in a 1 inch trench with the pointed end up. Cover them with soil and tamp with the back of a hoe.
Spread: 4 - 6 inches.
Sun/Shade: Full sun.
Foliage: Green onion-like foliage.
Fruit: The shallots have a hint of purple color.
Days To Maturity: Needs approximately 4 months to reach maturity.
Soil Requirements: Sandy soil, very adaptable.
Growth Rate: Needs approximately 4 months to mature.