---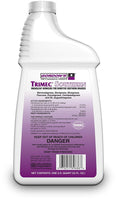 Trimec Southern Broadleaf Herbicide was made with susceptible southern grasses in mind, but is still extremely effective in controlling broadleaf weeds and is one of the best amine Trimec complexes for controlling clover. 
Using less 2,4-D to accommodate sensitive warm-season grasses, and higher in MCPP to maintain the quality of Trimec Southern Broadleaf Herbicide and is specially formulated for southern grasses. 
This ratio is in fact the best ratio for killing clover making this perfect for anyone, anywhere that needs to control chickweed and clover. 
Use this Trimec Southern on southern grasses such as Zoysia grass, Bermuda grass, St. Augustine grass, and centipede grass and on cool season grasses like fescue, and bluegrass. 
This should not be applied to Floratam St. Augustine grass.
Target Weeds...Clover, Chickweed, Dandelion, Dollarweed, Henbit, Plantain, Poison Ivy, Poison Oak, Ragweed, Spurge, Thistle, Wild Carrot, Wild Garlic and others 
0.37 - 0.75 oz per 1,000 sq. ft. (2 - 3 pints per acre)