---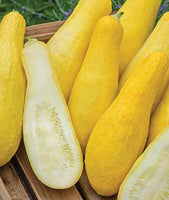 25 Seed Packet
Early Prolific Straight Neck Squash Seed, 
Yellow Straightneck Summer Squash, Open Pollinated, NON GMO
6-7 Inches Squash - Heirloom
46-55 Days to Harvest, best when young and tender
Prefers full sun exposure
Spread 24-36 Inches, Height 24-30 Inches
Provides Large Crop of Creamy Yellow-Skinned Fruits
Full Description
 Delicious flavor and fine texture. Ready to harvest about 53 days after seed is planted. 
Sow seeds directly in the garden in fertile, warm soil in full sun after danger of frost has passed.
Be sure to choose an area when you did not plant squash or related crops within 2 years.
Sow 1-2 seeds about 36 inches apart. Cover with 1 inch of fine soil.
Firm lightly and keep evenly moist.
Seedlings emerge in 10-14 days.
Thin to one plant when seedlings have two sets of leaves.